Student Clubs
Medical students at UVA organize a wide range of student organizations centered around specialty interest groups, community service, healthcare advancement, hobbies, and wellness. Participating students gain valuable leadership skills, learn useful knowledge, and develop camaraderie through coordinating events, social gatherings, educational lectures, journal clubs, research opportunities, workshops, and volunteering opportunities. An excel sheet of existing clubs could be found here.
Club Leader Resources
The Mulholland Society provides a variety of resources and funding for our existing clubs as well as students interested in starting new organizations. These resources and how to access them are listed below.
A comprehensive guide to the application process and the available resources for student clubs at UVASOM is currently under construction and will be available here once it's done!
Steps for how clubs can access funding through the Mulholland Society:
Please submit a funding request form before the event takes place/purchases are made (at least 2 weeks for requests less than $250 and 1 month for requests greater than $250).
The Mulholland Executive Board will reach out to you with a decision on how much money was approved.

Please ensure you stay within the amount approved when making purchases as it will be difficult for us to reimburse for any amount exceeding the approved amount.

After receiving word from the Executive Board, you can then make the purchases. Please remember to obtain itemized receipt.

Please note Mulholland is not allowed to reimburse for alcoholic drinks.

After the event, please fill out a reimbursement form.  If possible, please try to submit the reimbursement form within two weeks of the event.
Please reach out to Daniel Soto (zrt2rh@virginia.edu) with any questions.
Specialty Interest Groups
Specialty interest groups host faculty meetings, panels, speakers, and journal clubs. Faculty members address a variety of topics related to their specialty, including general overviews, subspecialties, lifestyle issues, residency matching, and cutting-edge research in the field. Participating in specialty interest groups is a great way to connect with faculty members for mentorship, shadowing, and research opportunities.
Advocacy and Service Groups
Advocacy and service groups host volunteering events and discussions to educate students on important healthcare topics. Participating in advocacy and service groups is a great way to connect with faculty mentors, give back to the Charlottesville community, and learn more about current issues in healthcare.
Women in science and medicine face unique challenges and obstacles that can hinder career advancement and overall success. Through panel discussions, seminars, and social events our organization strives to 1. Educate and increase awareness about the inequalities women face in medicine and sciences. 2. Prepare its members for successful careers in academic medicine 3. Develop a network of current students, alumni, and physician-scientist mentors who are available to provide guidance to students.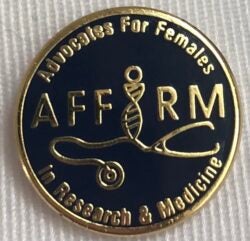 Contact Information: Sarah Wang (scw5dn@virginia.edu)
Learn more at: https://mstp.med.virginia.edu/current-students/student-resources/affirm/
The American Medical Association (AMA) and Medical Society of Virginia (MSV) serve as the
premiere medical advocacy bodies for national and state legislation respectively. The AMA/
MSV student chapter works with other chapters to draft and advance policy to the respective
legislatures, collaborates with local organizations to progress philanthropic endeavors, and
educates students on the systemic shortcomings of medicine. Over the last year, the AMA/MSV
student chapter hosted JAMA journal clubs, organized a naloxone and Haven clinic training,
hosted invited speakers by AMA/MSV members, organized lobby days with state legislators,
sent student representatives to both the state and national conferences, and submitted policy
proposals. Join AMA/MSV today at https://www.msv.org/membership/students/.
Contact Information: Jesse Cochran (jc6gdt@virginia.edu), Mallory Maza (hza7dq@virginia.edu)
GeriPal Club is an organization sponsored by the Section of Geriatrics for students who are interested in geriatrics and palliative medicine. GeriPal provides opportunities for networking with peers and faculty, knowledge-sharing on topics ranging from geriatric syndromes to end-of-life care, and community outreach to the older adults in our area.
Contact Information: Drew Vipperman (asv7qqg@virginia.edu), Lydia Prokosch (lsp7mz@virginia.edu), Emily May (elm3tj@virginia.edu)
For medical students and physicians, it's important to understand the system and rules that control the field we all work in. The Health Policy Group is focused on educating ourselves and our peers (you!) about domestic health policy and health policy research. Past meeting topics have included the scope of nurse practitioner practice, healthcare views of presidential candidates, price transparency in healthcare, and the state of Virginia's public health response to the COVID-19 pandemic.
Contact Information: Shreya Mandava (sm2mw@virginia.edu), Rusty Hawes (rbh2equ@virginia.edu), Parker Holum (uju5pa@virginia.edu), Robert Walls (tuw2ap@virginia.edu), Krystyna Cios (kjc3wj@virginia.edu)
The UVA Latino Health Initiative (LHI) is an organization that aims to improve the health and wellbeing of the Latino community in the Charlottesville area and by doing this narrow the gap between the University of Virginia and this community. This work is accomplished through 5 different community health programs: The Latino Clinic, the Cardiovascular Initiative, the Compañeros Training and Empowerment Program, Family Health Evenings at Southwood, and an educational radio program. Additionally, the LHI has been heavily involved in staffing weekly community COVID testing and vaccine outreach efforts. More information can be found at https://med.virginia.edu/uva-latino-health-initiative/.
Contact Information: Marcelo Sanabria (qkp6fj@virginia.edu)
Mulholland Pre-med Mentoring is led by one M1 and one M2 UVA School of Medicine medical student who aim to serve premeds in the undergraduate community. We host two events per month where we discuss content from premed coursework, MCAT strategies, personal statement writing, and more. We frequently include additional guest students and faculty to help students build connections and offer more diverse perspectives.
Contact Information: Angela Wang (aw7rb@virginia.edu), Lam-Phong Pham (lnp5au@virginia.edu)
The mission of Rafiki is to foster long-term relationships with medical students and pediatric patients. Rafiki means friend in Swahili which highlights the role our volunteers play as a companion to their buddy each time they have a hospital visit. As part of the club, we match up students with a patient with a long-term, complex medical condition to provide respite for the families as well as help students gain insight in the experience of a pediatric patient and their family over time.
Contact Information: rafiki.uva@gmail.com
Club leaders: Caleigh Smith (cs9hn@virginia.edu), Natalie Goldfield (ng3dk@virginia.edu)
SCCA at UVA is a group of health professional students (from the SOM, SON, and other health graduate programs) who recognize the impact of the changing climate on human health and the inequitable distribution of the resulting health burden. As clinicians-in-training, we aim to learn, educate, advocate, and practice medicine with planetary health in mind. In doing so, we will better care for our future patients, communities, and selves.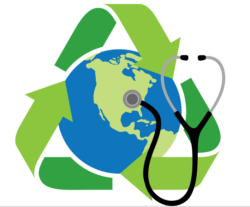 Contact Information: Lena Bichell (lmb9tzd@virginia.edu)
Attention students interested in Health Justice! SNaHP is the student arm of Physicians for a National Health Program (PNHP), a 19,000-member group advocating for universal healthcare. We believe that a single publicly funded, privately delivered universal healthcare system is a necessary precondition for us to provide high quality care to all our patients and achieve Health Justice in the US healthcare system. Please contact Mark Rudolf (mar4as@virginia.edu) to learn more, and go to https://student.pnhp.org/ to sign up for a free SNaHP student membership.
Contact Information: Mark Rudolf (mar4as@virginia.edu)
Learn more at: https://student.pnhp.org/
Teen Promise Project is a club that provides evidence-based and medically accurate comprehensive sexual and reproductive education to adolescents in the community. Curriculum is approved by American College of Obstetrics and Gynecology (ACOG) and students teach multiple sessions covering a range of topics on healthy relationships, body positivity, and sexual health. Teen Promise Project provides an opportunity for medical students to gain experience teaching and discussing sexual health with adolescents while engaging in meaningful community service.
Contact Information: Laura Fuhr (lif3ry@virginia.edu), Jess Miele (jam7ccc@virginia.edu), Ashley Silver (as2gm@virginia.edu)
The UVA MSR is a student-run medical school journal launching in 2021. Our mission is to encourage diverse scholarship dedicated to the advancement of health, equality, and discovery. As life-long learners, we in the healthcare field are committed to creating an environment of collaboration, service to our community, and creativity. This journal serves as a means for healthcare scholars to share ideas and experiences — reaching across different disciplines, fields, and specialties to promote wellness and integrity within our community. We aim to promote the highest standards in order to solve difficult problems and uncover mechanisms previously unknown.
Contact Information: Erica Mark (ejm5we@virginia.edu)
Learn more at: https://www.uvamsr.org/about
VWI is committed to conducting evidence-based, student-organized health screening and education events in Charlottesville. These events are designed to help empower the people of Charlottesville with knowledge that will help them make informed decisions to safeguard their own health.
Contact Information: Maggie Selesky (mls9za@virginia.edu), Lydia Hanson (lvh4ucw@virginia.edu), Sarah Flores (sef2zn@virginia.edu)
Healthcare Advancement Groups
Healthcare advancement groups host faculty speakers and hold workshops to explore concepts in healthcare implementation, healthcare innovation, and high value care.
Identity Groups
Identity groups host events and service projects to support a culture of diversity and inclusivity at the University of Virginia School of Medicine.
Hobbies
Hobby groups host events and performances to bring together students with similar interests. University of Virginia School of Medicine offers a wide variety of hobby groups with the goal of providing social opportunities of interest to all students.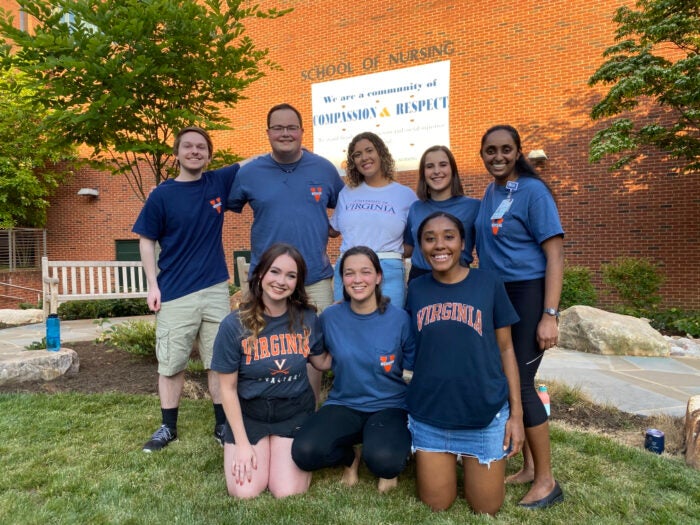 We are The Arrhythmics, UVA SoM's Acapella group. We meet Tuesdays 6:30-8:30 pm and have performances throughout the year. We have various group bonding events, including apple picking and movie nights. We would love to have you sing with us! Auditions are held once a semester. No experience is necessary. Auditions are casual, and all you need to prepare is a verse and a chorus of a song of your choice.
Contact Information: Lindsey Furness (wqa4rs@virginia.edu), MK Howard (swd7hc@virginia.edu), Toni Hoidal (phb4kc@virginia.edu)
Learn more at: https://www.youtube.com/channel/UCBpGUPlsjCAyd5lCZTEkx9g/featured
We meet to work on art projects and socialize! This club is a space for arts and crafts in our busy lives and a time to celebrate our creativity with our peers. We paint, draw, embroider, etc as we watch movies and eat food!
Contact Information: Katheryne Chun (kqc6um@virginia.edu), Sushma Reddy (snr4pz@virginia.edu)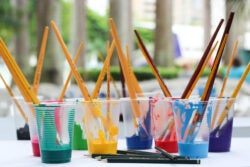 Our Goal: Freedom of expression & stress relief!
What we do: We host dance workshops & performances and choreograph many styles (Hip-hop, Contemporary, Jazz, Lyrical, Bhangra, Bollywood, Heels, Tap, and More!)
Why you should join: We just dance for fun – no prior experience necessary! All are welcome!
Contact Information: Ziyan Chen (zc3he@virginia.edu)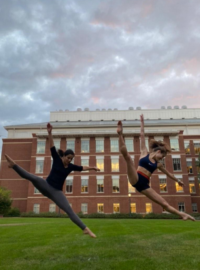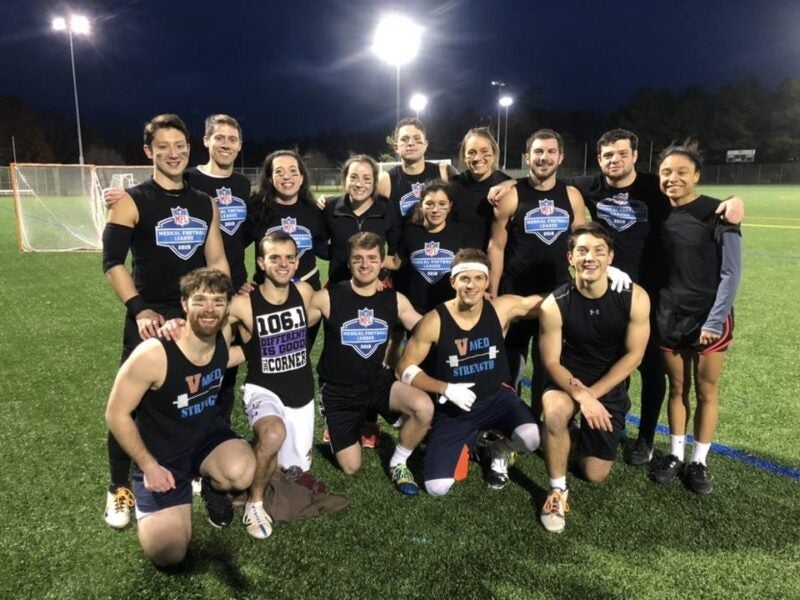 The medical school flag football league is a cherished part of UVA SOM! Usually consisting of 7-9 teams of around 12-15 students, the league runs for 8 weeks in the fall before the playoffs begin and a champion is crowned. Participation from all talent levels is encouraged by the commissioners and the rules, which support involving multiple people on each drive. See you out on the field for some fun, healthy competition!
Contact Information: Ben Robinson (bcr5us@virginia.edu)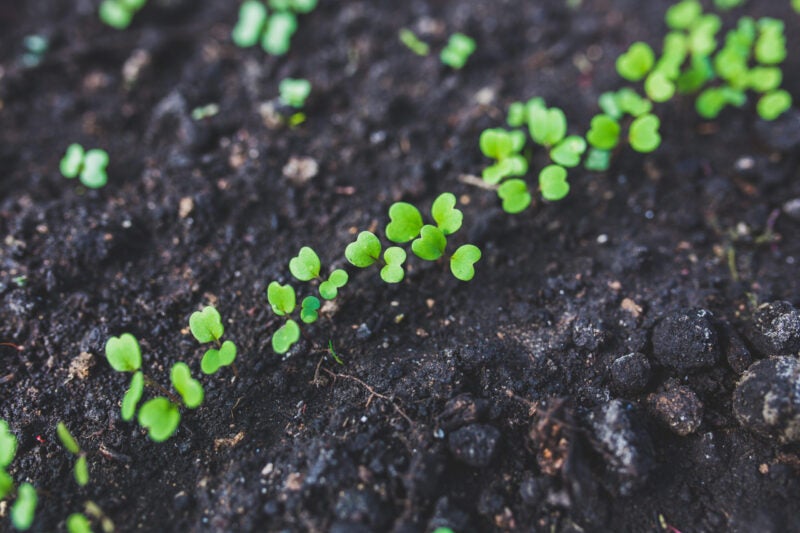 We research plants with different medicinal uses, that can grow in the Virginian climate and are trying to create a garden on grounds for students to enjoy. We will be working with the administration to create green spaces in the med ed building and outside of it. The gardening itself is a stress-relieving activity and it will be a place of greenery and peace. Additionally, the garden's plants will have a historical fact sheet with their uses in medicine and contribution to our history. Medical students will be allowed to grow their own plants regardless of whether they are medicinal or not. We also aim to create a butterfly garden with native plants that pollinators like in order to create a beautiful and relaxing space in the med school.
Contact Information: Sushma Reddy (snr4pz@virginia.edu), Steven Neal (smn2gzk@virginia.edu)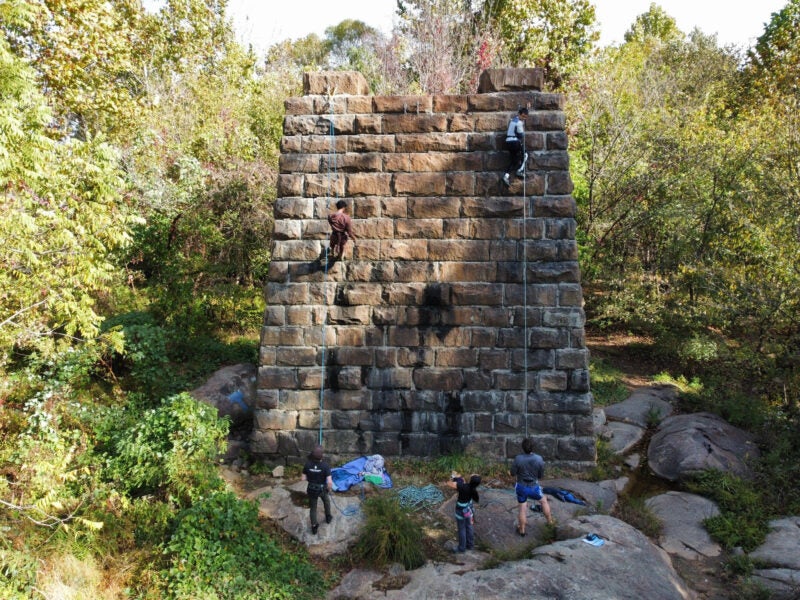 A club for med students who like to go outside to climb, run, kayak, and more! We have weekly meetings on Tuesdays at 7 PM to climb and hang out at UVA's Slaughter Recreation Climbing Center. We usually hold an outdoor event once a month.
Join our listserv here: https://lists.virginia.edu/sympa/subscribe/som_outdoor_adventures?previous_action=infohttps://docs.google.com/spreadsheets/d/15YalfwzlEXt5Q3Wf-MTHzIi6bVS0o7CMYd273reiEVM/edit
Follow our Instagram: @UVAMedOutdoorAdventures
Contact Information: Mallory Maza (hza7dq@virginia.edu), Moritz Lange (nzx2bh@virginia.edu)
Interested in crafting with a fun group and giving back to the UVA community? Want to learn something new? Join Procrastiknitters! Throughout the semester, we'll send out project ideas that you can work on to donate or keep. We'll have social events to work on projects and learn new skills! To join our listserv, email Hannah at hlk3fc@virginia.edu!
Contact Information: Hannah Kenny (hlk3fc@virginia.edu), Grace Forster (glf5gg@virginia.edu), Xiaoxiao Cai (xc7fy@virginia.edu), Kelley Mark (krm7pk@virginia.edu)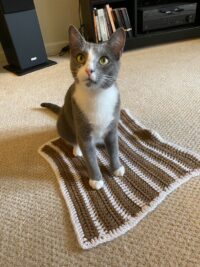 The SOMdance Film Club is a UVA School of Medicine organization created to provide movie-related activities for all students interested in film. Every few months, the Film Club screens a movie for students and holds a discussion afterward. Movies are chosen based on student interest and some showings are co-sponsored with other organizations in the School of Medicine including the UVA Medical Alumni Association and APAMSA.
Contact Information: AJ Winkelman (ajw6na@virginia.edu)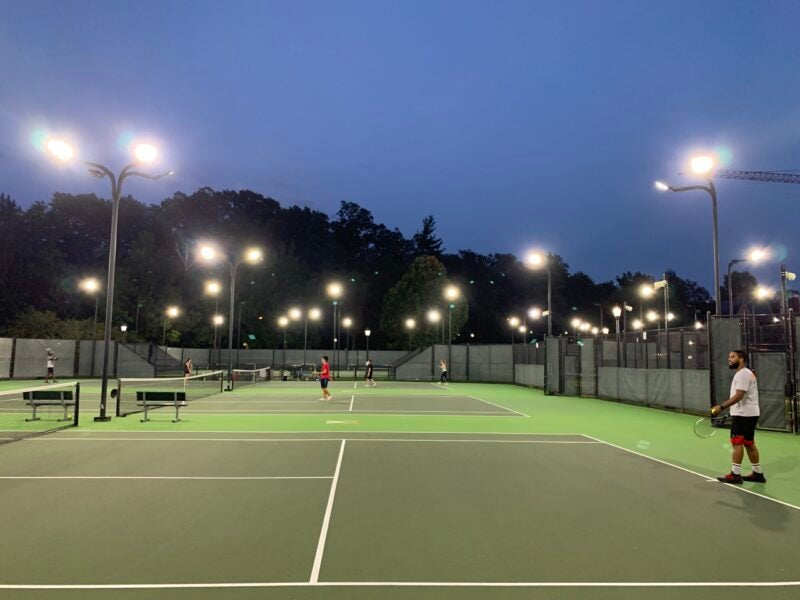 This group was created in the hopes of bringing medical students together through a common love of the sport, no matter the skill level. The group has courts booked on a regular basis, and events planned for watching tennis open's together. We'd love to see you on the courts!
Contact Information: Sunny Murthy (sm3ma@virginia.edu)
Sign up for the listserv at: https://docs.google.com/forms/d/e/1FAIpQLSeflXFawsoDETQr7Hw9NG8hVvP_dtG4ONgbSxPtW1l0R7P-jQ/viewform
The Virginia Medical Strength club is proud to announce that UVA SoM is once again the strongest medical school in the country! We have yet to be challenged on that front. VMed Strength is UVA SoM's hub for all things physical fitness. We have moved to a new space in the old Elson Student Health building that is outfitted for all types of physical activity and open to all medical students, regardless of self-proclaimed fitness ability. We offer a variety of small group fitness classes and personal training, free of charge, run by medical students for medical students.
Contact Information: Danielle Rinaldi and Najwa Labban (vmed.strength@gmail.com)
Wellness and Humanities
Wellness and humanities groups host relaxing events that promote student wellness.
Mission: Cultivate the minds of young introverts and literary intellectuals.
What we ACTUALLY do: READ BOOKS! The SOM Book Club selects 1 book each month to read and discuss. We read a variety of genres including biographies, mystery, fantasy, classics, science fiction, plays, and more!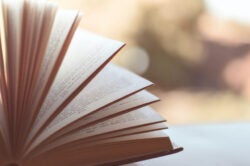 Contact Information: Feven Gezahegn (fzg7g@virginia.edu), Sushma Reddy (snr4pz@virginia.edu)
CALM is a student group at V-Med that seeks to promote wellness in the medical school community through group activities and retreats (yoga, meditation, potlucks, social gatherings, bringing positive vibes). We provide opportunities to improve the community around us and contribute ideas to the UVA Wellness Committee. Our goal is to provide healthy outlets to deal with the stressors of medical school and prevent burnout. We do this through retreats, hosting panels on a variety of topics, and guiding our peers on meditation and mindfulness techniques that work best for them. We have a listserv that we reach out to our members with but we often use the class listservs for our larger events.
Contact Information: Jeffrey Bellinger (jrb6dup@virginia.edu), Alexander Wahl (ajw4zx@virginia.edu), Amber James (alj5xq@virginia.edu), Mannet Dhaliwal (mkd7jtz@virginia.edu), Nancy Shen (nws2gh@virginia.edu), May Saito (ms5uq@virginia.edu), Jessica Miele (jam7ccc@virginia.edu), Troy Sterling (tes7nc@virginia.edu), Nicole Calautti (nmc7zf@virginia.edu)
Veritas is the University of Virginia School of Medicine's arts & literary magazine. Published annually in the spring since 1994 and student-edited since 2000, Veritas showcases original writing, art, and photography by UVA medical students. In addition to the magazine, our organization holds an annual winter art exhibit open to the public, and sends art/writing prompts and creative content published in a quarterly newsletter.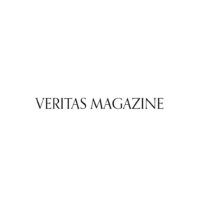 Instagram: uva_veritas
Contact Information: Sushma Reddy (snr4pz@virginia.edu) and Caroline Greer (ceg2ks@virginia.edu)
Learn more at: www.veritasmag.org