About the Anatomy Creative Reflection Project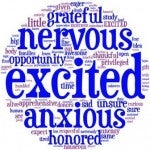 As the Word Cloud on the right reveals, medical students at UVA anticipating first-year anatomy dissection express a variety of emotions and thoughts.  As part of their semester-long anatomy course, students are asked to reflect on their actual experience.  Showcased here are works by students who have agreed to share their creative projects.
For some, anatomy lab stirred memories of loved ones who had died.  Others wondered what respect means when a person is not "present" to receive it. Many created projects to explore or thank the unknown person who was their anatomical donor. Still others expressed aversion to or awe of the intricacies of the human form and the experience of dissection itself.
The Creative Reflection Project is intentionally open-ended to allow students to discover what they will.  Ideally, all students find something they consider meaningful.  We are proud of their work.  We hope visitors to this ever-growing website will agree that their collective projects embody elements of sincerity, wonder, and gratitude.
Donna T. Chen, M.D., MPH, Project Founder
UVA Center for Biomedical Ethics and Humanities, sponsor of the Creative Reflection Project